Wildlife Trail Classic is on Saturday. Unfortunately (more) rain may make the course on the sloppy side. I think I'm going to opt for the trail shoes to be on the safe side. It should tell me at least a little about what kind of shape I'm in and tell me what I need to do for the Run to Remember next weekend. I'm not setting any numeric goals, just want to race smart and feel strong. Times will take care of themselves.
Normally I would have taken Thursday off before a race, but I really wanted to get some saddle time in. I chose to get a 20 miler in today around home. I probably went a little hard early and attacked some hills I shouldnt have, but what's the point of being on it if you aint gonna ride it?
Those dark clouds would prove to be the real deal later in the Evening
After my ride I enjoyed a recovery shake while wacthing the backyard critters. Always enjoyable and relaxing for me. I caught a glimpse of the proud new family the other day. Today they paid the feeding tree a visit.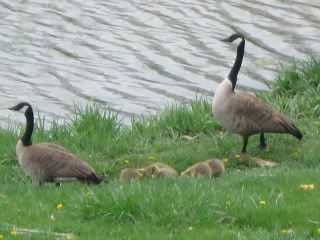 There was somebody not to glad to see them, however. Mr. Squirell was trying to have some feeding frenzy time all to himself. Unfortunately, Papa Goose wasn't to keen on having any dinner guests.
After a bit, the family moved on and the squirell was able to have some privacy before he was ran off by 6 more adult geese not interested in waiting their turn or sharing.
So Friday get a nice quick pre-race tempo run in and swing into town to pick up my race packet. Then it's back home to get my gear ready to go for Saturday. Looks like promising weather with some wind.