As I'm writing this, I have 7 more full working nights at the airport...assuming I make it through tonight. I'm in desperate need of my weekend when I get off. 12 nights in a row and all but one out here. I suppose the check will look good though.
I've had a pretty decent few days training. Wednesday I put together my longest run of the year thus far, a nice 10.5 miler. I was pretty beat up following the run so I used Thursday as an active recovery day and just walked to loosen up. I spent Friday morning on the treadmill doing some 90 sec. intervals working on speed. Not a bad workout actually. I was pretty spent. My goal for the week was to balance my training and resting since I was feeling slightly less than good. I knew I had some races coming up and with me feeling sub par and working some extra hours I wanted/needed to be smart. I was feeling a little better on Friday evening so on Saturday I took advantage of the weather and got my 1st mtb ride in a long time. All in all, not too bad. I definitely need to spend some more time on the bike though on trails. It didnt take long to start getting my feel back. I had to laugh at myself a few times though as I recognized many mistakes as I made them. Eventually I quit evaluating and just rode.
Post Ride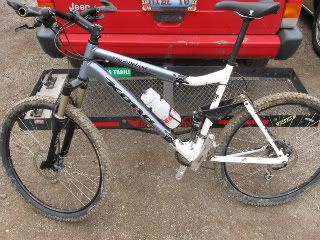 I will probably just sleep today for as long as I can. When I get up I'll stick to an easy run more than likely. A hard effort on the bike sounds great, but I'm not going to risk being full blown sick all week. I think I'll focus on rest, refueling, and recovery the next couple days. Come Wednesday I'll start getting the engine ready to run for Saturday at the CITRA race.