So far so good with my work the last few days. Missed my easy spin today since I didnt get home from work til noon, but otherwise getting in some good days.Monday I was back in the Dungeon with Howie for 45 minutes of good times on the bike. He had a pretty fun training DVD that we worked to. I've got to get me some of those. It kept me involved and into the workout.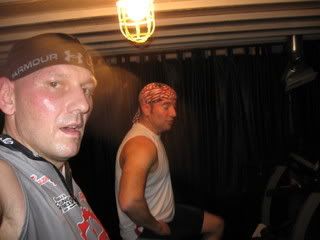 Me and Howie coolin down
On Tuesday I had my best Simple Fit day so far. I started over again at L1D1, but it was needed and it paid off. I should have got one in tonight too, but again, thought I better get my sleep after a long night at work. NYE would have been much more relaxed at the airport. Instead I was runnin all night and into the day. I needed some sleep
On Wednesday, it was back to the trails for my first trail run in a long time. The temps were a test by themselves. The radio said it was 2 deg with the wind. Little warmer in the woods, but the sweat coming through my hat and gloves were freezing at the 1hr. mark so I thought I better call it a day. Jubilee was refreshing. It's like goin home.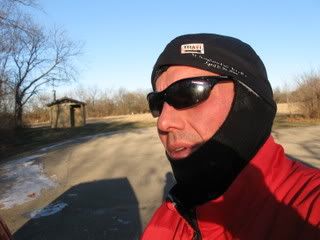 On the bike front, I have decided..........the Kona 4 it is. I really think I'll be happier in the long run on a f/s frame. It's the one I've wanted for a year and as long as I can still snag an 08, the price helps too. I'll find out for sure on Monday if its still possible. If not......maybe it's back to the Stumpy ht.
Gonna try an actual tempo run tomorrow. I found some good treadmill workouts on our local running club site. They arent long, but will be challenging and fun and give me some variety.