Well, I wanted a trail run yesterday and I got one. I had intened to just do one loop at the McNaughton trail they'll be using for the ultra in a couple weks. At about the 7 mile mark I somehow got turned around and ended up running in a figure 8 for about 45 minutes only to keep ending back at the same spot. I finally saw another trail runner across a field and I ran after him. Fortunately he was running the trail also and was familiar with it so I tagged along with him to finish it up. So, without even trying, I ended up wiht about a 2.75 hr. run and probably close to 15 miles in.
Don't I look beat?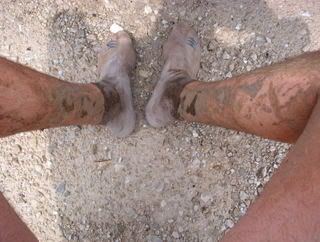 Trails were actually in decent shape, despite the rain.
Then I was lucky enough to drive across the stree to do trail work at Dirksen for 4 hours. Those trails are really getting a good cleaning for the MMBF. In addition to clearing and blowing the leaves off, we have been working on a new bridge.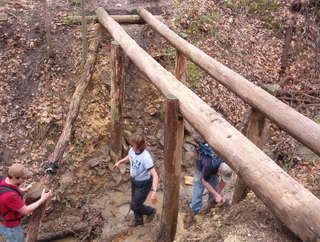 All that's left now is the planking.
I'm going on a nice easy run at Bradley Park today just to loosen up a little. Tomorrow I'll hit the bike for some recovery time with Howie.