Oddly enough, I didn't mind them too much. I took them out yesterday for a hard effort ride. I ended up at 22 miles just over an hour. I was really hoping to be faster, but I'll take it. Anyway, the aerobars took me some getting used to, but all in all weren't too bad. I tilted my saddle down slightly as recomended by all that I talked to. My junk was still feelin the pressure at about the 13 mile, but it wasn't too terrible.
I guess my biggest adjustment was I shifted late or not at all sometimes. I was reluctant getting out to make the shift. As I got more comfortable, I was able to make the shift and keep an arm in the bars. My handling was also a little "twitchy" early on, but that smoothed out also. JHiggs has a different style bar I might try and compare next week.
Speaking of new stuff. Here's my new Bell Ghisallo road helmet.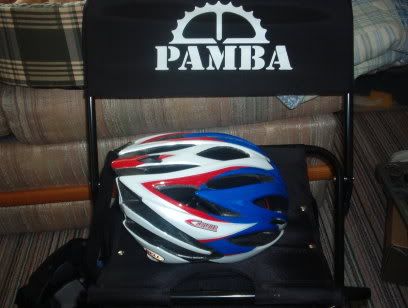 Two days of hard efforts has my legs a little dead today. I'm going to get in an EZ run today and a spin on the RIT tomorrow if the weather holds.