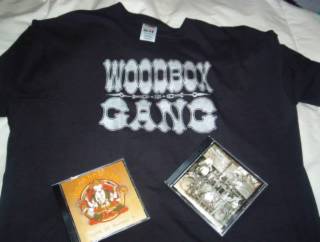 Some Goodies From The Show

Amazing......is the only way to describe the show last night. I have waited for 2 1/2 months for last night and it was more than worth the wait. As jacked as I was for the show, it would have been easy to fall short of the hype, but that didn't happen. They fully went above all expectations. The sound was amazing and they were a great bunch of guys. I am even more into them now than before. I was able to snag a shirt and the new CD. I also grabbed an earlier CD I didn't have yet.
Tomorrow is "back at it" day. This weekend has been a complte training meltdown in every aspect. I don't feel guilty though as I have had a great weekend. I am anxious to get going again tomorrow though and that is a good thing. I'd really like to ride outside, but we'll have to see the temps.
For Howie and Brett......Go Steelers!