It's no April Fool's joke..my month at the airport started tonight. I'm trying my best to settle in, but it's hard. Knowing that I have a month of this makes it difficult to be very upbeat. I look at it this way though, I can really crank my training up this month and get familiar with the new HRM.
Speaking of which, I put to work for the first time today. I did a 9 mile run on a country road near the house. The Timex worked well. I was concerned with some crazy numbers at first, but it seemed to settle in quickly and worked great after that. I was able to download it easy and then plug it ino my training peaks account and look at the data which was pretty cool. I got the upgraded training peaks account for this month and will make a decision on whether to keep it or not later. So far, so good though.
Here are a couple pics from Monday night's ride.
This is the last I would see of these guys before the sprint to the finish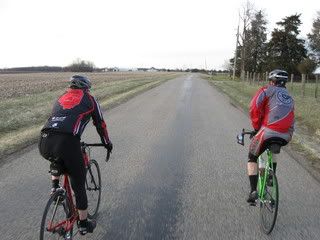 Getting my game face on for the sprint