The Race went off great this weekend. I think there were 150 racers. The normal I-74 guys and PAMBA guys in particular had a great turnout. I was really proud of all of them. Three guys really impressed me. Higgins making his re-debut on the race scene after a long stint running them, Matt Brakeville with an impressive first race as an Expert and Doug Morgan just blowing up the Novice race and capturing his first race victory ever. I'm sure he'll have more to follow.
I can't say enough about the FORC guys. It was simply put, a quality event. There efforts showed. They set a high standard for the rest of the series to follow. I think we can live up to it.
As for me, I got to ride some dirt and that's all I was asking for. I ate pretty bad all weekend, but that's what I get for not taking any of my own food. I learned my lesson there.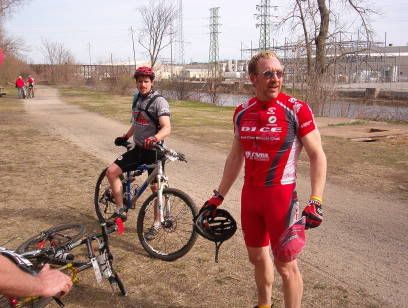 My schedule for the week looks like this:
Monday/a.m. conference I have to attend
ride-2 hrs.
(Actually I did 1 3/4 hrs, 30 miles. That wind out of the South put a hurtin' on me!)
Tuesday/days
a.m. EZ run-30 minutes
Wednesday/2-10
Long run-5 miles
Thursday/2-10
EZ ride-2 hours
Friday/off
Trail run-30 minutes??
Saturday/6-2
Long ride-3 hours